Welcome to Dallas Michael Sam!
Hang on for a minute...we're trying to find some more stories you might like.
First off, you all should know that I'm not a sports commentator. I don't usually write sports reviews and unless it involves the Texas Rangers, I'm usually not interested. But the Dallas Cowboys just got a new member on their practice squad, and it looks like he'll be here for a while.
You may recall a few months ago when Michael Sam plummeted into the spotlight after being the first openly gay man drafted into the NFL. People across America watched as he celebrated with his family and boyfriend, many touched that such social progress could be made in the NFL. It was only a matter of time before he became the first openly gay man in the NFL, right?
Unfortunately, Michael Sam's performance wasn't quite up to par at training camp this year. It was a close call though. Had the Rams defensive line not already been full, Sam might have made it. But the Rams are known for their strong defense and they're well stocked. So Sam had 24 hours for another team to sign him, which….didn't happen.
What's Sam to do? He now had the option to sign to any practice squad in the NFL, or get sent to the Canadian league. It looked like it was going to be the latter when the unexpected happened.
He signed with the Dallas Cowboys.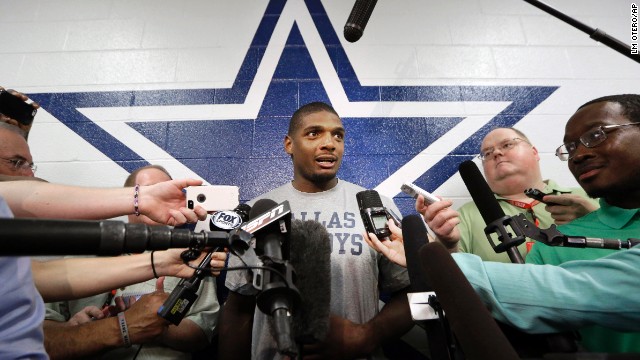 Jason Garrett, one of the coaches for the Cowboys, has stated in multiple interviews that they evaluated Sam as a player and he's got what they need for their practice team. In fact, the Dallas Cowboys practice team is probably the best place for him right now.
During this off-season, the Cowboys let two of their best defensive players go (Demarcus Ware\Jason Hatcher), so it makes sense that they try to get more defensive players ready. Sam is a good defensive player, he just needs a little work.
Here's the thing about Michael Sam. He's so close to having what teams need, he's just not quite there. He's got the attitude to succeed, but he hasn't figured out how to succeed with his physicality. He's too big to be a linebacker, but he's too small to be a really good defensive lineman. So he needs to bulk up and work on his technique, and he'll be perfect for any team.
And he's doing just that. Recent reports show that Sam is working his butt off, and is improving. He's an ideal back up in case any of the defensive players on the roster get hurt, which is always a possibility. Unfortunately, it's not a given. Best case scenario for Sam right now is a bittersweet one. Someone gets hurt, and Sam is added to the roster. Worst case scenario, he doesn't make an appearance, and instead spends all season honing his skills. Which isn't so bad of an option.
Regardless, Sam has already been accepted into the ranks. In an interview on ESPN's Inside the Huddle, (something that many practice players don't actually get to do) Sam explained that many of the team members have accepted him, and are actually treating him as if he's a rookie, which bodes well for the defensive player.
So for now, Sam is tucked away on the practice team. There's no telling if this is where he'll stay, but it's probably the best place for him right now, and I'm sure that we're all looking forward to seeing where his career is headed next.